Explore the exciting world of Licensed Point-to-Point Microwave Communications!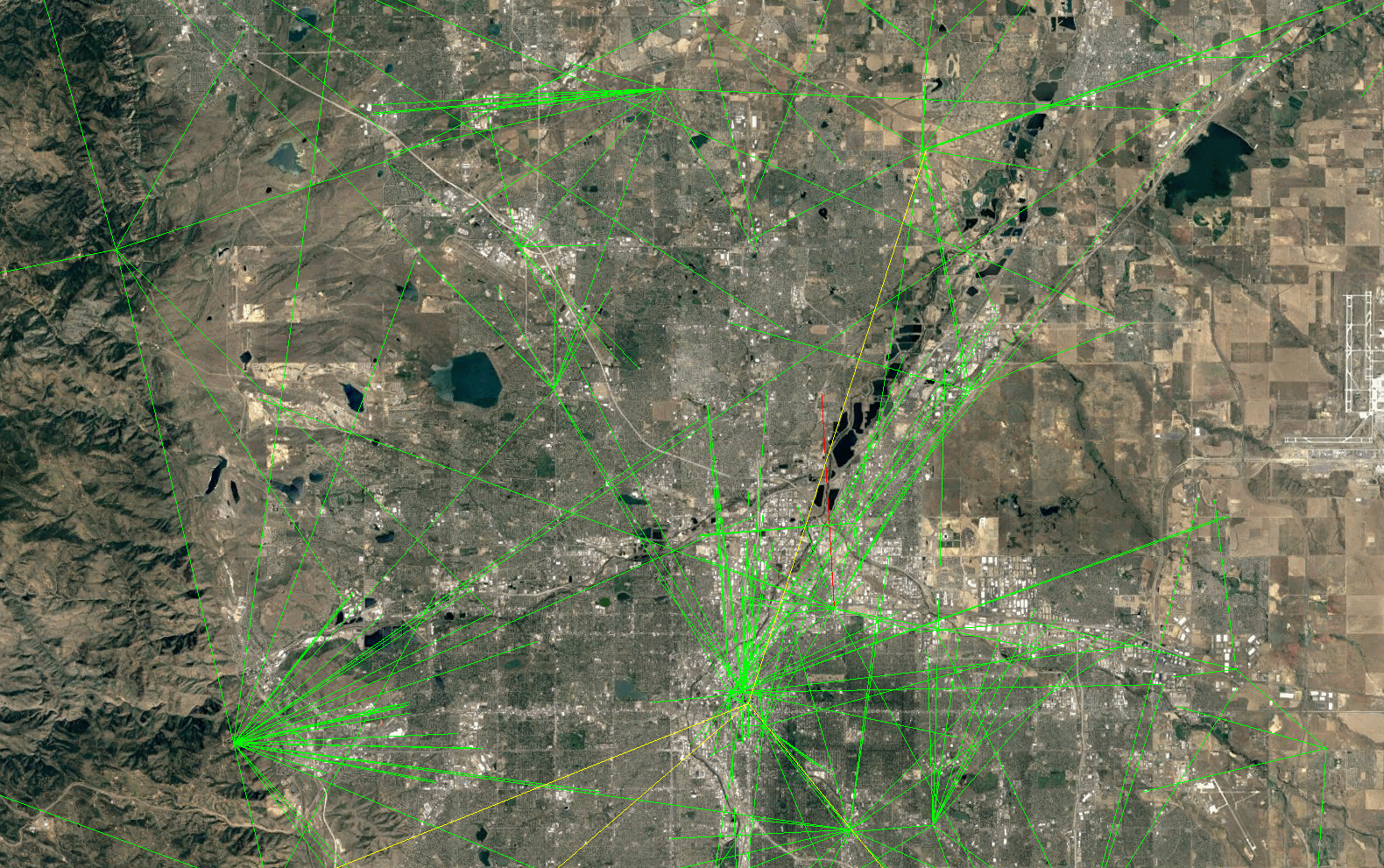 Find local ISPs. Gain insight on cell reception. Trace high-frequency trading routes. Map out utility SCADA networks. Locate broadcast and teleport facilities. Microwave.earth combines data from the FCC Microwave License Database and Micronet Comm. 70/80/90GHz link registry to form a view of the point-to-point radio links of the US, whether they're carrying phone calls, cat pictures, railroad signalling, digital television, tollbooth payments, or any number of other things.
It's easy to start exploring. ⋙Download⋘ and open the base Google Earth KML, then select networks for display on the left. Special options exist to show all active licences, all inactive licenses (cancelled, terminated, expired, pending), and a view of the AT&T Long Lines network, including non FRN-associated AT&T/US West callsigns. Specific other networks have been isolated and grouped so you can view that network's geographic topology, they are listed below.
Questions:
How it works?

The base document contains a link that loads the special/FRN groups from the server. Google Earth requests the enabled sub-documents (networks) along with a bounding box of your current perspective of the planet. The server queries its database (making heavy use of PostGIS) and returns the locations and segments that occupy that geographic space.

What about «some country»?

Send me a link to their license database and I'll see what I can do.

Why can't I see anything?

Make sure your eye altitude is less than 25mi/40km for 'all' networks, and 65mi/100km for specific networks.

Why don't some Long Lines sites appear?

The FCC completed and started making use of the ULS (Universal Licensing System) in 1999, but didn't import any licenses that were inactive at that time, so many Long Lines license details are not available in electronic form.

Source code?

Sure, soon.
Contact:
Email:
tdb
Matrix:
FRN Groups:
Aerux Broadband – 0022810253
Apsara Networks – 0022431688
Bel Air Internet – 0018282137
Bland County – 0001620210
Blue Ocean Enterprises – 0022927164
BNSF Railway – 0002606507
Broadband Data Services of Texas – 0020172011
CBS – 0001767078, 0002147528, 0002148070, 0002845816, 0003183183, 0003475902, 0003476074, 0003482189, 0003579067, 0003612447, 0003616588, 0004132981, 0004425773, 0004497707, 0007187727, 0006144554, 0009018193, 0009225210, 0009225244, 0009225392, 0011590270, 0021079769, 0023035348
Citicasters (Clear Channel) – 0001520303, 0001520303, 0004953659, 0018273367, 0019360379, 0027342682, 0004953659
Colorado Interstate Gas – 0003801131
Colorado Springs Utilities – 0004256012
Conterra Ultra Broadband – 0009750324
Denver, City and County of – 0001621192, 0001621218, 0004531687
DirectLink Inc. – 0020233508
EAGLE-Net Alliance – 0020568333
Freewire – 0015991268
FRII – 0018147538
Google – 0026746354
Grazi Communications – 0008260291
GTT Americas – 0025319039
KN Telecommunications – 0001621689
Los Angeles DWP – 0001527860
LP Broadband​/Skybeam‌​/Mesa​/Sopris​/Digis‌​/Rhino‌​(/others) – 0014175673, 0013795273, 0021775820, 0021487566, 0015689623
MHO – 0017223108
Microsoft – 0008512311
Monkeybrains – 0021449830
Mountain Broadband – 0021388996
Mountain Parks Electric – 0001616416
Multimedia Holdings Corporation (Tegna/Gannett) – 0001887363
National Grid USA Service Company – 0003628997, 0005196530
Netunwired – 0010524791
New York Power Authority – 0003482791
Northrop Grumman – 0003800133, 0008385700, 0008982464
One Ring Networks – 0015118276
PACIFIC MICROWAVE JOINT VENTURE – 0004534145
Panhandle Eastern Pipe Line Company – 0002508604
Platte River Power Authority – 0001613991
Powernet – 0017809542
Regional Transportation District – 0006075287
Scripps Broadcasting – 0002710192, 0003957487, 0019300888, 0025030222, 0027980333, 0027980341
Sprint (/Nextel/Clearwire) – 0005392923, 0003768553, 0026173476, 0001680552, 0002315950, 0013892427, 0002049880, 0001800184, 0002207066, 0003774593, 0002154086, 0005598107, 0002050078, 0001608363, 0003293511, 0018399998, 0002963965, 0004121786, 0001835479, 0003293537, 0005072970, 0015526551, 0001878255, 0003883352, 0015316904, 0023187677, 0002529659
Standard Backhaul Comm. (HFT) – 0021495940
State of Colorado – 0001613934
Tatora – 0022300404
Telos Online – 0025920620
T-Mobile – 0014848477, 0001565449
Tri-State Generation & Transmission – 0001615863
Union Pacific – 0001539048
Union Telephone Company – 0001630201
Verizon – 0001520980, 0001536424, 0001583244, 0001680263, 0001824804, 0001962588, 0002011278, 0002073203, 0002109213, 0002166825, 0003271798, 0003273505, 0003316692, 0003469442, 0003628971, 0004350237, 0004997375, 0020249777
Verizon Wireless – 0001659069, 0001837194, 0002963817, 0003290673, 0003295904, 0003800307, 0003800315, 0004447371, 0006209373, 0007609324
Verso Networks – 0022583801
Visionary Communications – 0018092593, 0023083553
Vivint – 0022442263, 0022792816
Webpass – 0019297043
WiLine – 0021463690
World Class Wireless – 0021166046
Xcel Energy – 0006242689
Zayo – 0015331689, 0016555849
Zirkel Wireless – 0012579652